Yena's godmother Umma is holding her first ever contest in the blogniverse. She will be giving away a brand new COACH satchel bag, a way of sharing her blessings and in celebration of her and her husband's 6th wedding anniversary on July 28.

If the contest becomes successful, the giveaway/contest will be a monthly thing that we bloggers can look forward to! I wonder what's the next prize would be – Ipad, Ipod or an LV Bag maybe?! Lol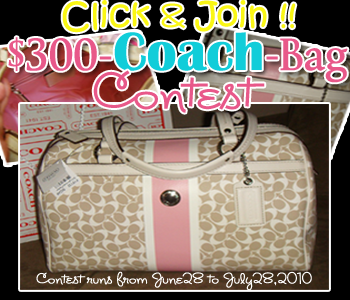 Really if you wish to bring this fab bag (like i do!!), come and join us! The contest runs from June 28 to July 28. Best of luck to all of us!
PS:
If you learn about the contest from here and decided to join please tell Umma you are being referred by me, NIKO. =) Thanks a lot!